Cold craft beer to pair with the hot blues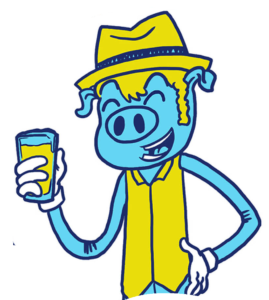 With the help of the Iowa Craft Beer Tent, Blues & BBQ will be pouring cold ones from breweries around the state from 11 a.m. until 10 p.m. We'll have the best craft brews for every taste: hop lovers, cider fanciers, beer snobs and those who just want a cold, refreshing pint. Root beer and water will also be available.
The concert grounds is free, open to all-ages (don't forget your ID), and a perfect spot to listen to music, see friends, and just have a good time. For just $6 a pint – or $20 for four – a large variety of craft beer will be available in the beverage garden.
Cash only, but we'll have ATMs on site if you need them.
Here's what's on tap:
Light beers:
Franklin Street Brewing – County Fair Wheat
Iowa Brewing Company – Key Lime Kolsch
Reunion Brewery – Hefeweizen
Big Grove Brewery – Boomtown
Exile Brewing Company – Tico Time
Lion Bridge Brewing – TAG
5ive Cities Brewing – Bikini Bottom Pineapple Wheat
Darker beers:
Peace Tree Brewing Company – Red Rambler
Contrary Brewing Company – Peanut Butter Porter
IPAs
Backpocket Brewing – Bubba
7 Hills Brewing Company – 7 headed monster
Confluence Brewing Company – Des Moines IPA
SingleSpeed Brewing – Swift
Toppling Goliath Brewing Company – Pseudo Sue
Clock House Brewing – Witch Slap
Sour beers:
Big Grove Brewery – Summer Jam
Others:
Fishback & Stephenson – First Crush Watermelon (Cider)
Sutliff Cider
Firetrucker Brewery – Copper Cat (Moscow Mule)
Millstream Brewing Company – Rootbeer (Non-alcoholic)