Sam Ross Quartet
July 9, 2022 from 3:00 pm

-

4:00 pm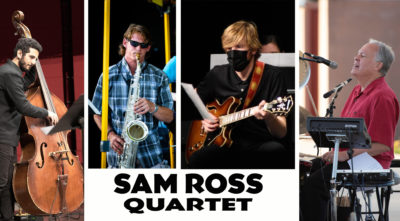 The Sam Ross Quartet is a group of musicians committed to playing jazz, blues, funk, and rock.
Christian Montover is a blues and rock based guitarist who studied under Black Crowes guitarist Isaiah Mitchell. His flamboyant stage presence and tasty guitar riffs are sure to have you entertained. He has played many local venues including North Liberty Porchfest, Iowa City Jazz Fest, the Ped Mall, and has gone to Iowa Jazz Champs just before leaving high school.
Askar Khaetov is a bass player, performer, and teacher. He holds a Bachelor's and Master's in jazz performance from the state Conservatory of Uzbekistan. During his career he has performed at various concerts, festivals, and competitions within the country as well as abroad. He plays both bass guitar and double bass. He is currently pursuing a Master's degree and working as a teaching assistant at the University of Iowa in the jazz department. He's played live concerts in Uzbekistan, Turkey, Azerbaijan, and Kazakhstan and has played with artists such as jazz vocalist Christie Dashiell, jazz pianist Benny Green, and jazz saxophonist Anibal Rojas
Sam Ross is a second year student at the University of Iowa working towards his Bachelor's degree in Jazz Performance. He has played sax for nearly a decade and has played with artists such as jazz pianist Benny Green, pianist Steve Shanley, jazz guitarist Steve Grismore, and jazz trumpeter Curtis Taylor. Sam actively performs with various groups in the local area.
Jazz and funk drummer Ken Duncan is a renowned musician. Founder of the Funk Daddies and the jazz combo Invisible Jazz, Ken has had massive success in the music industry. He began playing, gigging, and transcribing music when he was just 13 years old. His rock band Cabala was inducted to the Iowa Rock & Roll Hall of Fame in 2018. He actively performs with countless names and with both his groups regularly. He also loves working with sound technology on stage and works with bands' sound systems.