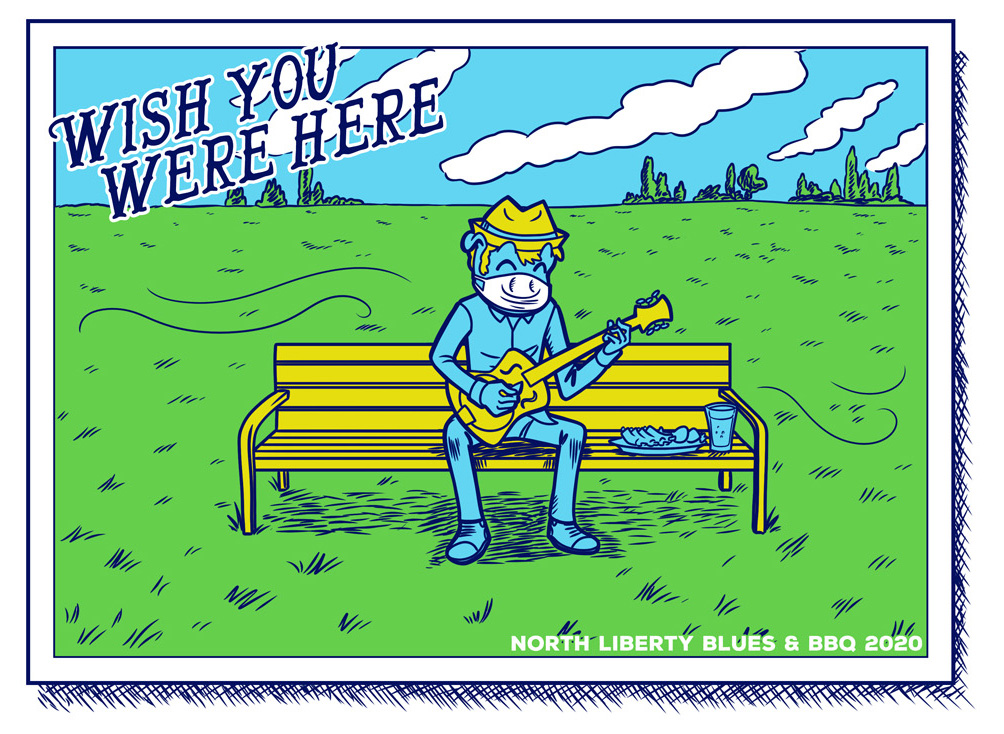 Just because we made the disappointing, but careful, decision to cancel the 2020 in-person edition of North Liberty Blues & BBQ presented by Veridian Credit Union due to the COVID-19 pandemic, doesn't mean July 11 has to be sans music and great food. Instead, we encourage our fans to hold responsible backyard barbecue parties (following all recommended CDC and state guidelines for gathering sizes and physical distancing at the time July 11 rolls around, of course). Here is a quick reference page for the CDC's recommendations for cook-outs as of June 2020.
To make it easy, we've compiled a list of ways you can bring a taste of Blues & BBQ home to celebrate our 14th year with us through concurrent small gatherings. We hope you'll show your support for our festival, local restaurants and artists by tuning in to our internet radio station, crafting with your kids, biting into mouthwatering barbecue and quenching your thirst with brews from local breweries.
Music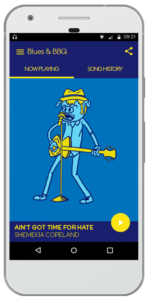 Even if we can't have 17,000 people together in one park, music can still bring us together. On July 11, we invite you to tune in to our North Liberty Blues & BBQ internet radio station. We've been working hard to curate 12 hours of streaming, which will include tracks from artists you would have seen on stage this year (except our 2020 headliner, who we've reschedule for 2021 and still keeping under wraps), past festival headliners, blues-inspired music we think you'll dig, as well as interviews with artists and Blues & BBQ committee members.
Our station will stream from 10 a.m. to 10 p.m. on Saturday, July 11. Tune in to the stream at any point during the 12-hour broadcast and find comfort in knowing that you're sharing an experience with other North Liberty Blues & BBQ fans, even if this year looks different.
To listen on July 11, download the free Blues & BBQ app in the Apple Store or Google Play, stream our station on Facebook, or through the web player below.
ANDROID APP
iOS App
BBQ & BREWS
This year's stroll down food vendor alley will be a drive (or bike ride) for takeout from a local establishment. We've partnered with North Liberty restaurants Jimmy Jack's Rib Shack and Mosley's Barbecue & Provisions to offer Blues & BBQ family-style takeout specials.
And because we know the craft beer selection at our festival is also a fan favorite, you can add a mixed six-pack of local craft beer to your Jimmy Jack's or Mosley's order. Six-packs include one of each of the brews below and cannot be customized.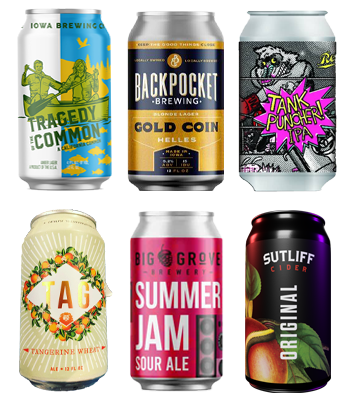 Iowa Brewing Company: Tragedy of the Common (California Common)
Backpocket Brewing: Gold Coin (Blonde Lager)
ReUnion Brewery: Tank Puncher IPA (IPA)
Lion Bridge Brewing Company: TAG, Tangerine (Wheat)
Big Grove Brewery: Summer Jam (Sour)
Sutliff Cider Company: Original Cider (Cider)
If these takeout packages aren't for you, Jimmy Jack's and Mosley's regular menus will be available on July 11 with CHOMP delivery.

Also, we recognize that a trip to the grocery store or ordering from a local restaurant isn't possible for everyone (especially during these difficult times), so we're partnering with our friends at the North Liberty Community Pantry to make sure everyone can enjoy a meal on July 11. Blues & BBQ will be providing food for pantry families that day, and if you'd like to help too please donate at https://bit.ly/FeedANeighbor.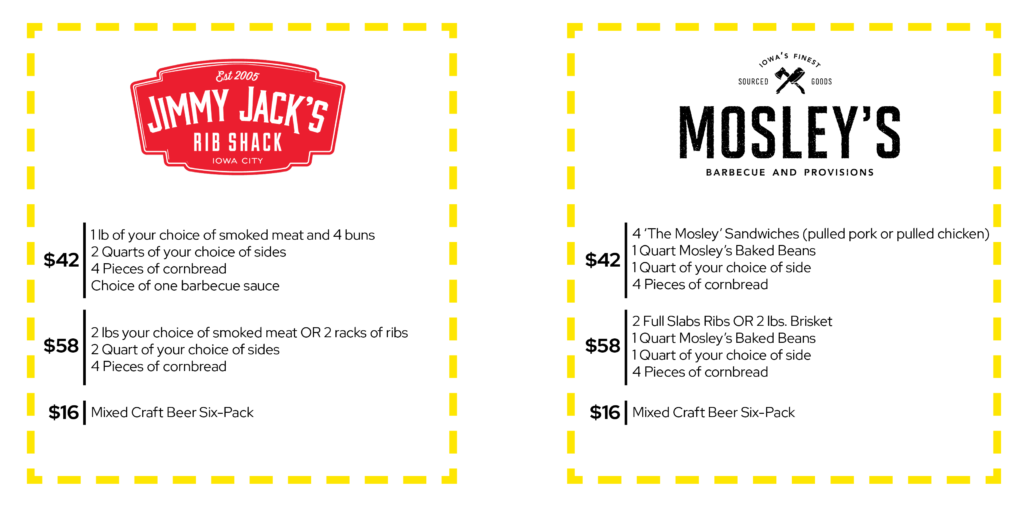 Pre-ordering is encouraged through the links below.
ORDER JIMMY JACK'S
ORDER MOSLEY'S
10K, 5K and 1-Mile(ish) Virtual Race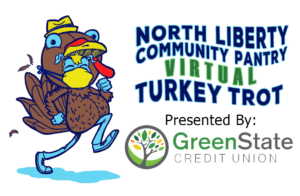 The North Liberty Community Pantry's 9th Annual Thanksgiving in July Turkey Trot is going virtual! The Turkey Trot traditionally takes place the morning of Blues & BBQ in Centennial Park. This year, participants can complete a 10K, 5K or 1-Mile route at any time in the month of July and report their results online. Registration is a $20 donation to the pantry. Participants can also purchase a shirt for $10 and a specialty headband for $8. Runners who want to up their gift to the pantry are also invited to create a fundraising profile to collect donations from family and friends. Learn more and register at northlibertycommunitypantry.org.
REGISTER
Kids' Fun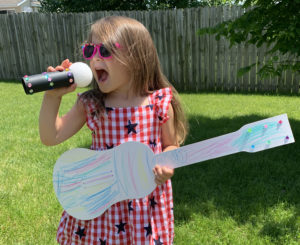 We'll all miss the bounce houses and inflatable rides this summer, but we've created a few options for kids to still take part in the arts and crafts they look forward to every year.
We're giving away 200 free craft kits! Reserve a kit online (as supplies last) and pick it up at the North Liberty Library the week of July 6. Each kit includes all the supplies needed to make your own guitar, rockstar sunglasses, and microphone. Projects are designed for children between the ages of 3 to 8. Limit of four kits per family, please. We're sorry, but these kits went fast and all of them have been reserved.
Download our Blues & BBQ coloring sheets featuring our mascot Otis! Share a picture of your work with us by tagging North Liberty Blues & BBQ on Facebook.

North Liberty Blues & BBQ presented by Veridian Credit Union 2020 was (and still is) generously suppported by Veridian Credit Union, GreenState Credit Union, Junge Ford BMW of North Liberty, South Slope Cooperative Communications, GEICO Cares, MidWestOne Bank, Shive-Hattery, North Liberty Optimists, FOX Engineering, Great Western Bank, Think Iowa City, Hills Bank and Trust Company, US Bank, Port O Jonny, KCRG, Locals Love Us, KZIA, Little Village, North Liberty Leader, Johnson County Refuse, The Englert Theatre, Eco Care, ICAN and the City of North Liberty.