North Liberty Blues & BBQ is a family-friendly, free event for all residents and visitors of North Liberty, held on Saturday, July 13, 2019.
It takes a volunteer force of about 300 people to put on this all-ages, family-friendly party. Roles range from servers in our beverage garden to helping kids at the inflatables, and all kinds of things in between. It's easy to sign up for a volunteer role and the shift that works best for you. Shifts are two to three hours, and we need help from set up to tear down. Special thanks to Junge Ford North Liberty for supporting our volunteer program.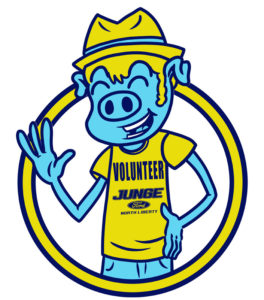 Signup is simple. Just pick your role and time slot online when shifts become available each May. Fill out your contact info and T-shirt size, and you're all set. You'll receive a confirmation email immediately after filling out the form and we will be in touch with you personally via email as well.
What are the perks of volunteering for North Liberty Blues & BBQ?
A special Blues & BBQ T-shirt for volunteers only
A voucher to be used towards food or for a complimentary beverage
Free water during all volunteer shifts (and delivered to you, too!)
A fanny pack with cool things from our sponsors
Community service hours credit
We just have a GREAT time and you get to be a part of it!
Who can volunteer?
Volunteers must be at least 14 years old to sign up without a parent or legal guardian
Volunteers age 21+ are welcome to volunteer in our beverage garden
All volunteers must be cheerful, flexible, and ready to welcome guests and enjoy this great festival!
Can my group earn money to volunteer?
Yes! We have a number of volunteer shifts that are a perfect opportunity for churches, young professional groups, non-profits and sports teams. Learn more here.
Can I bring a friend to volunteer with me even if there aren't slots for both of us?
Many of our volunteers recruit their friends to join the team – that's one of the things that makes our Blues volunteer team so awesome! However, we ask for a specific number of volunteers at each location to ensure a positive experience for everyone involved. We ask that you please choose a role and shift that has slots for both of you. Without a name, contact info, and T-shirt size, your friend won't be "official" at that location and may be asked to either leave that area, or help in another area.
What do volunteers do?
It takes a volunteer force of about 400 people to put on this all-ages, family-friendly festival. Roles include greeters and parkers, being on the Eco Team, servers in our beverage garden, helping with kids' activities, and many, many more. Shifts are two to three hours during the event.
Can't join us the day of? Your help is needed the day before and after, too. For a full list of volunteer roles and descriptions, refer to our sign up page. There are also volunteer opportunities available with the Turkey Trot taking place the morning of the festival to benefit the North Liberty Community Pantry.
What should volunteers bring and wear?
Blues & BBQ takes place outside rain or shine, so dress accordingly and wear comfortable shoes.
All volunteers must wear our official Blues volunteer T-shirt during their shifts. If you are volunteering with your business or group you are welcome to wear your name tags.
Please leave all valuables at home.
Bring your ID and some cash (or an ATM card) for great food from our vendors.
How can I help out now, before the festival?
Spread the word! Please pass along this info to anyone you know who might be interested in joining our volunteer force. We welcome new faces to the team each year!
Like us on Facebook or follow us on Twitter to help get the word out!
I'm volunteering for a class, church, club, courts, etc…how can I prove I was there?
If you have a form that needs to be completed or signed, simply bring it with you and one of our on-site Volunteer Coordinators (Jean, Katie, or Kaila) can sign it for you.
If you need a letter directly from us, email us at Blues Volunteers, and we'll get you what you need.
How do I review or change my volunteer shift(s)?
Please refer to your confirmation email for instructions on how to change your sign up.
More Questions? Email Blues Volunteers