Enjoy a smorgasbord of mouthwatering barbecue from our pitmasters
Blues & BBQ presented by Veridian Credit Union has become a summer tradition, and cruising Adam Schechinger State Farm food vendor ally for lunch and dinner is a big part! In 2016, some 15,000 hungry guests joined us for food, music and community fun. With another nationally touring headliner this summer, we're expecting another big turn out, and hope you'll join us! Traditional barbecue favorites such as ribs, pulled pork and burnt ends, as well as ice cream, pizza, sno-cones and more will be available beginning at 11 a.m.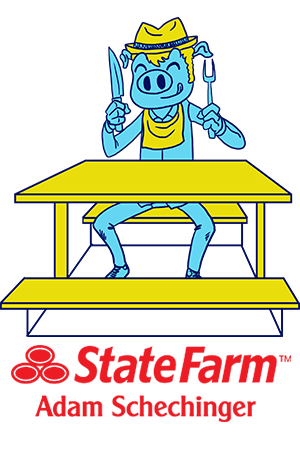 Smoking up a storm this year:
Honeybadger BBQ
Wildwood
The Wedge Pizza
Kona Ice of Cedar Rapids & Iowa City
Smoke N Grill on Wheels
Optimist Club of North Liberty
Mosley's
Rodney's Jamaican Jerk
Hamburg Inn No. 2
TC Bone'z
Flip N' Chop
SugaPeach Chicken & Fish Fry
Yolandas
Amos Dean Catering
Fat Pat's Gumbo by Caribbean Kitchen
We appreciate your help in diverting festival waste from the landfill by following the lead of our eco-attendant volunteers stationed throughout the event. Every slab of ribs will be served on a compostable container; the corner of every mouth will be dabbed by a compostable napkin; and if, for some reason, you need flatware instead of using your fingers, that will be compostable, too.
Cold craft beer to pair with the hot blues
With the help of the Iowa Craft Beer Tent, Blues & BBQ will be pouring cold ones from breweries around the state from 11 a.m. until 10 p.m. We'll have the best craft brews for every taste: hop lovers, cider fanciers, beer snobs and those who just want a cold, refreshing pint. Root beer and water will also be available.
The concert grounds is free, open to all-ages (don't forget your ID), and a perfect spot to listen to music, see friends, and just have a good time. For just $5 a pint, selections in the Junge Ford North Liberty beverage garden will include: